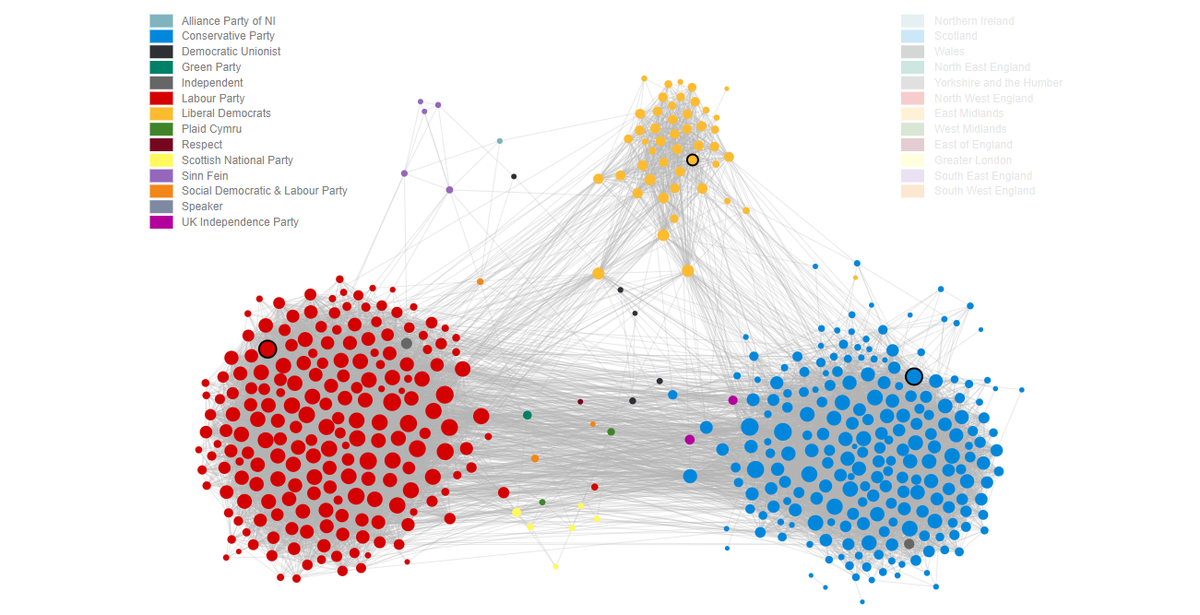 The Twitter network of UK MPs (Nesta)
Until December I was a proud trustee of Nesta, the UK's leading innovation foundation with a £450 million endowment that originated from the National Lottery. Nesta started as a government-controlled organisation called the 'National Endowment for Science Technology and the Arts' (NESTA) and became a separate charity in 2010. I was a trustee for six fascinating years and did my bit to contribute to the evolution of Nesta, which now focuses on innovation across healthcare, government, the creative economy, innovation related policy and education. It is possibly the largest and most important charity that you have never heard of. Nesta has a team of driven and incredibly bright people on a mission to bring about change.
As a former member of the Challenge Prize committee, let me give you an example of what Nesta does. Nesta develops, tests and applies a variety of innovation methodologies and is at the forefront of developing methodologies that encourage innovation where the private and public sector fails. One methodology is the challenge prize where a monetary reward is offered for a solution to an issue – the most famous prizes being the 'X Prize', which kickstarted the rapidly growing space sector. The battle against anti-microbial resistance is one example where curbing the overuse of antibiotics may improve our chances of staying ahead of the bugs that are no longer responding to antibiotics. If we lose this battle, simple operations will become high risk and our healthcare system could be catapulted back into the dark ages. Nesta Challenges runs challenge prizes for a wide-range of clients and is running the Nesta-backed Longitude Prize which offers a £8 million pay-out for the development of an affordable, accurate, fast and easy-to-use test for bacterial infections to ensure that antibiotics are only used when they are effective (i.e. not if the infection is a viral one).
To learn more about Nesta and what an innovation foundation does, watch this video .
As you will be aware just from your interaction with social media, the amount of data being generated is growing exponentially and it can be hard to review, manage, sort and understand what it all means. If you consider how much data large organisations and governments are producing, then it is a lot of data – it is 'big data'. Over 90% of the world's data was created in the last two years and there is now well over 5 zettabytes of data in the world, and that is expected to grow to up to 200 zettabytes by 2025. 1 zettabyte is 1 billion terabytes – the size hard drive on a high-end PC.
To understand more about just how much data is being created, watch this video .
Data may be structured or unstructured and within all data lies important insights to improve lives or just your bottom line. Increasingly we are applying machine learning to data analysis and eventually artificial intelligence will be able to analyse oceans of data and extract patterns and value. The human mind just does not have the processing capability or sometimes even the capacity to ask the right question. At some point, we need to understand that data and make decisions and that is when data visualisation matters. Data visualisation allows us to see patterns and understand data in new ways as if a fourth dimension has been added. In your business, data visualisation can range from knowing how to plot data and a simple trend line to the use of powerful cloud based solutions that can store, manage and analyse your data. Big data and data science is now as important as marketing to many businesses and has even been used to predict crime and swing elections.
The Nesta team has created fascinating, relevant, award-winning and even beautiful data visualisations that demonstrate the power of this approach to data analysis. It is the future of how the increasingly out-gunned human brain will absorb the output of big data analysis.
In business, being able extract insights from data creates competitive advantage so start thinking about how you can use data visualisation or even simple dashboards that breakdown your key performance indicators (KIPs) so that you know at any time exactly how your business is performing.
Making Sense of Skills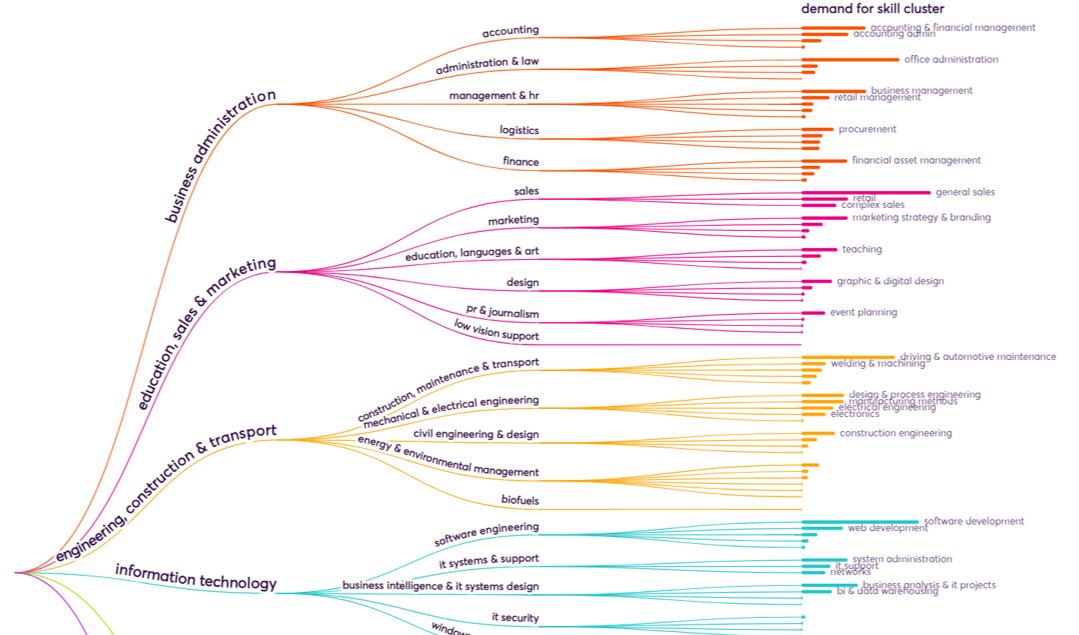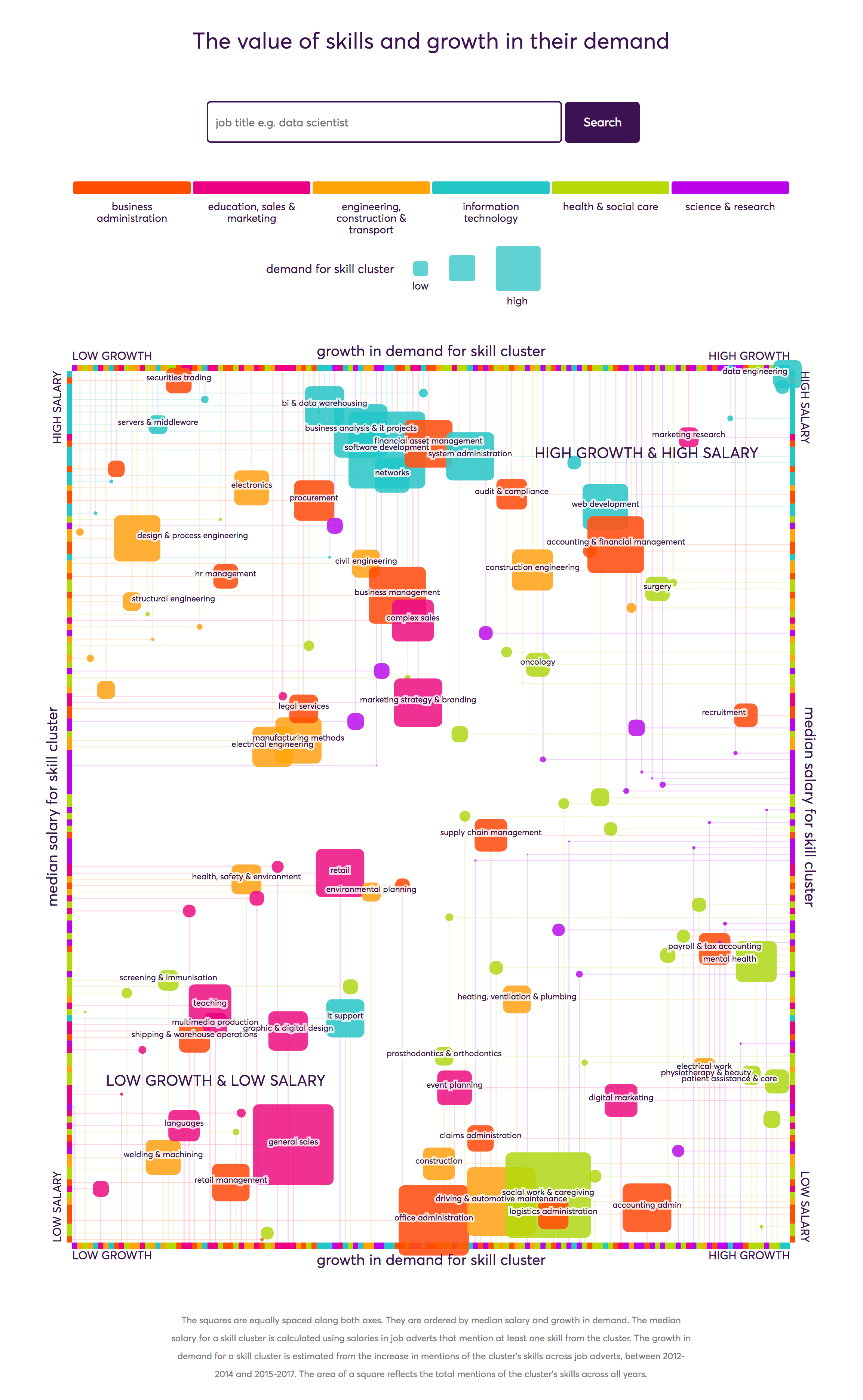 Nesta used the data from thousands of job advertisements to develop the first data-driven UK skills taxonomy that provides a consistent way of measuring the demand and supply of skills. This can help you understand the skills that you or your children may need or even how the availability of skills may impact your business – or demand for the services that your business may provide. Find out what skills are needed for a wide range of jobs or what salary can be expected.
https://www.nesta.org.uk/data-visualisation-and-interactive/making-sense-skills/
'She Said More' – gender imbalance in media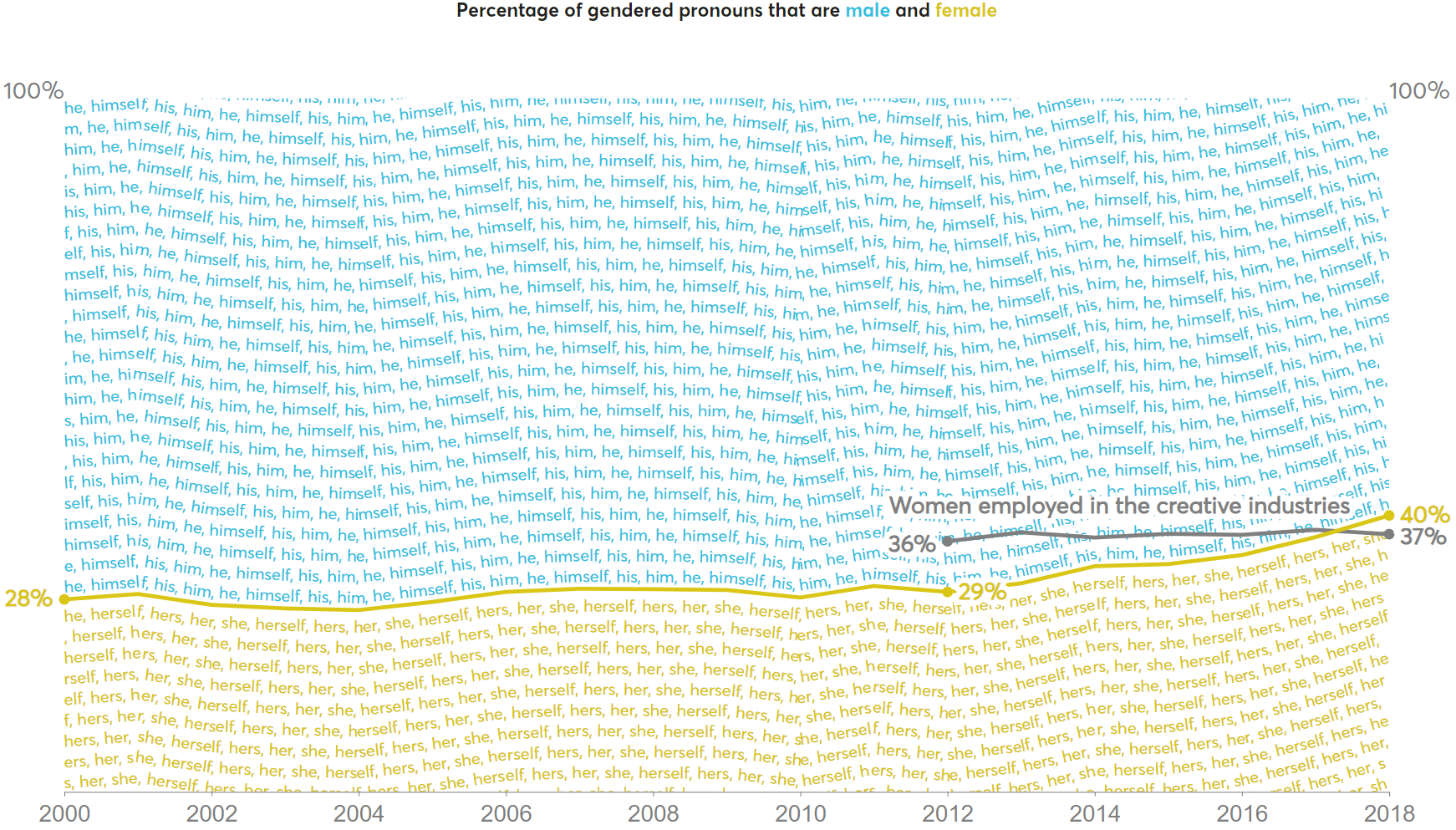 A recent award-winning data visualisation used big data and machine learning to analyse over half a million news articles (via The Guardian's open API) published across almost 20 years, to show gender imbalances in the media by analysing the incidence of gendered pronouns. View the full visualisation here.
If you want a play with Nesta's Top 10 picks that range from the work of Florence Nightingale to a real-time 3D map of the movement of London Underground trains, go here: https://www.nesta.org.uk/feature/top-data-visualisations/

This is all great, but how do you apply it in your world? Do not underestimate the amount of data you, your business, your employees and your customers produce each day. Find ways to collect, store and analyse that data to improve your service, increase revenues or drive down costs. It may start with learning how to use a spreadsheet and the powerful features in Excel or leverage the admin dashboards of your internal IT and communications systems to understand how you can fine tune your business or even spot new opportunities.
If you have a larger business or have plans to grow there will come a point where you just will not be able to understand the power of your data or be able to consume the output of data analysis.
More data means that there is more value to extract and you can use data visualisation to get ahead.
As the saying goes, a picture says a thousand words.
Please share if you know somebody who will be interested.
Piers

Don't forget the 20% discount from my #Startup with Piers Linney course during January 2020. Click here to apply the voucher.